99 Percent Mine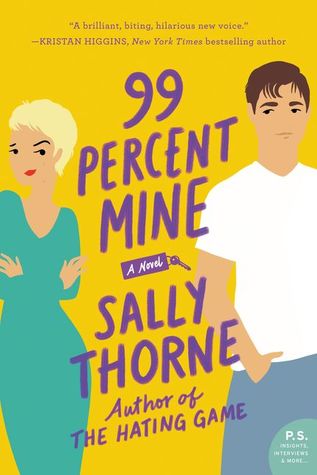 This is my first Sally Thorne book, I didn't read The Hating Game although it is one my TBR pile and I will read it, I found it a bit hard to get into this book the heroine Darcy and I didn't gel I found her hard to like, but there will be lots of people that will like her, she is feisty and out there and has been in love with the hero Tom forever and I did love Tom.
Darcy Barrett has travelled the world settling down is not for her, but when her and her twin brother are left their grandmother's house with strict instructions to renovate and sell, Darcy is home and fighting with her twin brother Jamie and then enters Tom Valeska, who really has been part of the family since they were all eight years old, and the sparks fly in so many ways because for Darcy Tom must be off limits to her, or will working together change all of that?
Tom was practically taken in by the Barrett family when he was eight years old and Jamie is his best friend, he has been engaged for years but is now running his own renovation company and is starting work for Darcy and Jamie, keeping his mind on the job and not Darcy is going to be hard for him, and he is keeping secrets from Darcy but his heart is beating for her and her only.
This is a fast paced story with a lot going on, not just renovations Darcy and Tom are having a hard time keeping their feelings from each other and Tom is so protective of her that they are pushing each other's buttons, but when they open up about their love they fall into each other's arms spectacularly. There are a lot of characters in this story that are really good and added a lot to the story and if you love a good romance then this one will be for you.
Published January 29th 2019 by William Morrow Paperbacks